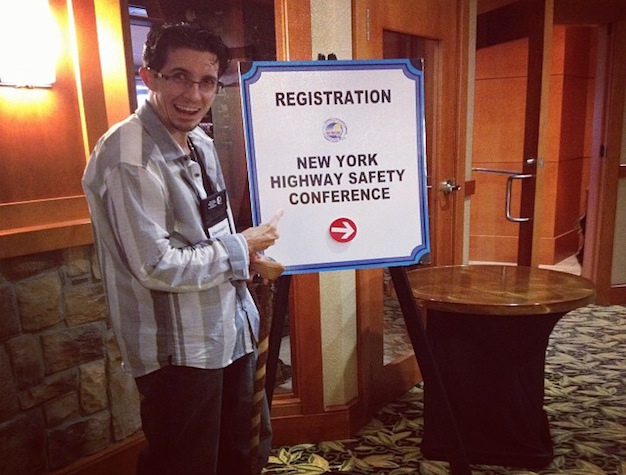 On July 6, 2002, at the age of Seventeen I was involved in a terrible car accident that has altered mylife forever. I had to go through many years of rehabilitation to learn to walk again. In conjunction with my family, I created a 45 minute presentation that sends a strong message to NEVER SURRENDER no matter what obstacles are thrown at you.
The fact that I am sitting here and am able to share my story after such a tragic event is truly a blessing. I was the typical troubled teenager that lived in the fast lane. I had lost my father to Brain Cancer in 1999, two years prior to the accident and was very angry at the world. Nothing really mattered to me in life, and I had no dreams or plans for my future. My life was from day to day. I was going to school, but I was kicked out most of high school, or I was cutting whenever I wasn't suspended and partying with my friends.
The night before the accident, I went to a keg party. My friends and I partied all night. Early the next morning, we decided to go for some bagels. A couple of my friends jumped in one car and I hopped in another car with a girl I had just met the night before. As we were driving and racing with the other car, the girl lost control driving the car I was in and flipped into a ditch. I was NOT wearing a seatbelt so I flipped around like a beach ball. When the paramedics arrived they had to intubate me. This means that they had to place a flexible plastic tube down my windpipe in order to maintain an open airway for me to breathe. This moment was the beginning of a very long, tough road for my family and me. My life was changed forever.
The doctors told my Mom that I would probably never walk or even be the same person. I had spent over 18 months in the hospital going to physical, speech, and occupational therapy. While in the hospital I was tutored so that I was able to graduate high school with my class. After I was able to live home I continued to go for therapy for over two years. I went to Suffolk Community College and earned my Associates degree from 2005-2008 in a wheelchair. When completed I decided that I wanted to go away to college to live on campus, so I moved upstate to Pace University in Westchester and graduated with a Bachelor's degree in Technology Systems. It has taken a lot of determination and hard work to get where I am today. This does not count all of the surgeries that I had to have.
I am presently living in Long Island. I graduated from Pace University with a Master's Degree in Computer Science. Going out and telling my story is very important to me for I feel that no one should have to go through what I went through, and if I can prevent just one person from making the same mistake, well then I did a great job, I can say that I saved someones life.
I have been going out to different schools in New York and New Jersey for over 12 years trying to get my message out. I feel that it is so important for teens and adults to see what I have gone through and what challenges I have on a daily basis. After doing this for many different audiences, I have come to realize that my experience is more than just recovering from an accident, It is about determination and never giving up. Whether this is from a hardship or the obstacles life puts in your path. It is amazing to sit and listen to some of the questions that people ask after the presentation. Usually it takes a little to get them started but when they do start asking questions it opens up a flood of discussions. I am very honest and do not have a problem with any question I may be asked. Everyone has the option to give up, I choose to NEVER SURRENDER!
No one realizes how something like this affects the whole family. For over two year my family and friends came to the hospital daily to visit and help me through this very difficult and confusing time. My mom took a leave of absence from work and stayed in the hospital with me for over 6 months. In between therapy's she would read to me, play my music and help me with daily needs. My brother would come up every night after school and spend hours with me.
I honestly feel that I have made a difference in some of the people I have met along the way giving my presentations. What better way for them to understand that there are consequences to every decision than to see me, and my everyday struggles for themselves.